Please note: You may find profiles and feed templates it a little bit complicated to setup, but you only need to do it once for all your products in the same category. If your products already exist on Amazon, you do not need to create any listing profiles at all.
A listing profile for WP-Lister for Amazon covers the following sections you know from listing products directly on the Amazon website:
Category selection
Vital Info
Offer
More Details

Selecting a Feed Template
Visit Amazon » Profiles and click "Add New Profile". Enter a profile name that describes the products you are going to publish in this category.
Choose which Amazon Seller Account you want to publish products to from this category.
Now select a "Feed Template" – one of the main Amazon categories you previously added at Amazon » Settings » Categories::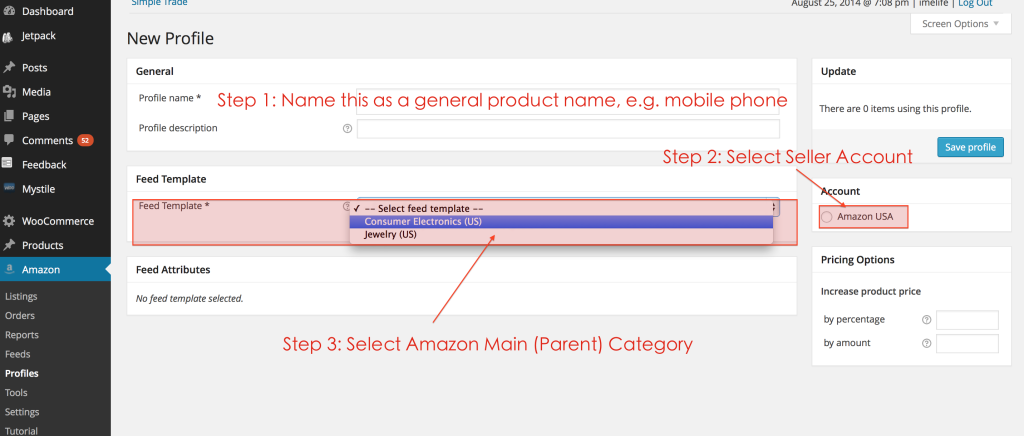 After you select the "Feed Templates" (Amazon Parent Category), you will see a long list of details Amazon wants you to fill in when adding products to this category. This is a tricky part of setting up WP-Lister for Amazon, but you can simply follow the rules below to create the templates quickly.
You should always remember to:
Make sure "Required" sections are set up properly
Use the "Magnifier Icon" next to each field to choose the values
There are some key sections you need to pay attention to (titles may vary in different categories):
Product ID – Choose "Amazon Product ID" (or insert short code: [amazon_product_id] manually)
Title – Choose "Product title"
Description – Choose "Product description"
Item Type – This is the Amazon sub-categories you have to select
Product Type – You may not be able to find the exact fit to your product, but you can select what is the best match for your products in this category
All field values can be pulled from product attributes, but if your site does not have brand or manufacturer details because you only sell one brand, you can simply enter these directly in the profile.
Brand – Type your product brand
Manufacturer – Type the name of manufacturer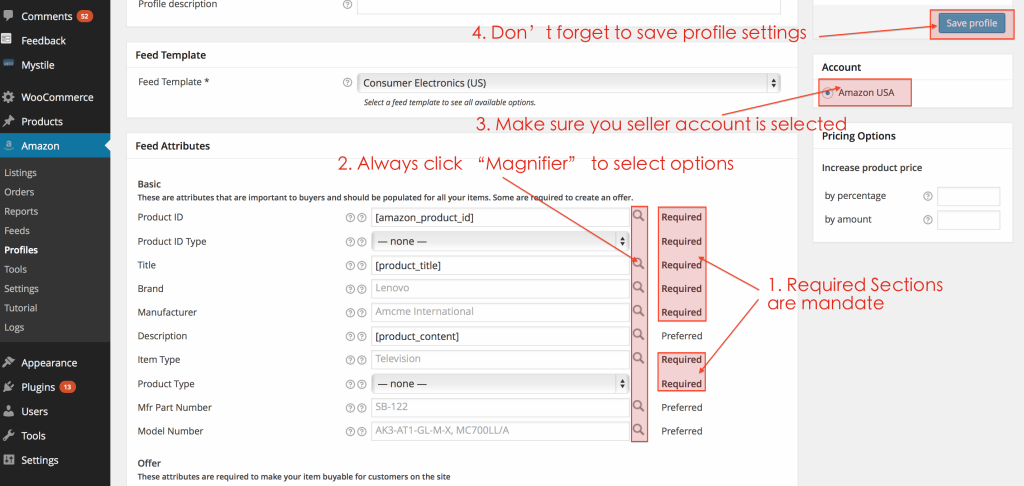 You may also want to set up the following "Preferred" fields as well – unless they are already set by default:
Mfr Part Number – Choose "SKU"
Standard Price – Choose "Price"
Sale Price – Choose "Sales Price"
Sale Start Date – Choose "Sales start date"
Sale End Date – Choose "Sales end date"