Step 1: Connect your Amazon seller account
After you have uploaded WP-Lister to your website and activated the plugin, visit
Amazon » Settings » Accounts and follow the following steps to connect your WP-Lister to your Amazon account:
Enter a short title as reference, for example "Amazon US".
Select the Amazon marketplace you'd like to sell in, for example "United States".
Click on Sign in with Amazon and sign into your account as the primary user.
Go to the Manage your apps page in Seller Central and click Authorize new developer.
Enter the name WP-Lister and the Developer ID that you'll find displayed in the instructions.
Follow the authorization workflow until you see your seller account identifiers on the final page.
Copy your Seller ID in the field below the instructions. Leave the "MWS Token" field blank.
Click Add new account to add the new account to WP-Lister.
As you can see on the screenshot below, you'll find the same instructions when adding an account in WP-Lister itself – including the actual Developer ID for you to authorize:
After you click Authorize new developer, you will be prompted to enter the Developer name and ID:
Once you click Next, you'll have to confirm that you want to connect WP-Lister with your account:
Confirm the above and you'll see the final page where you can find your Seller ID: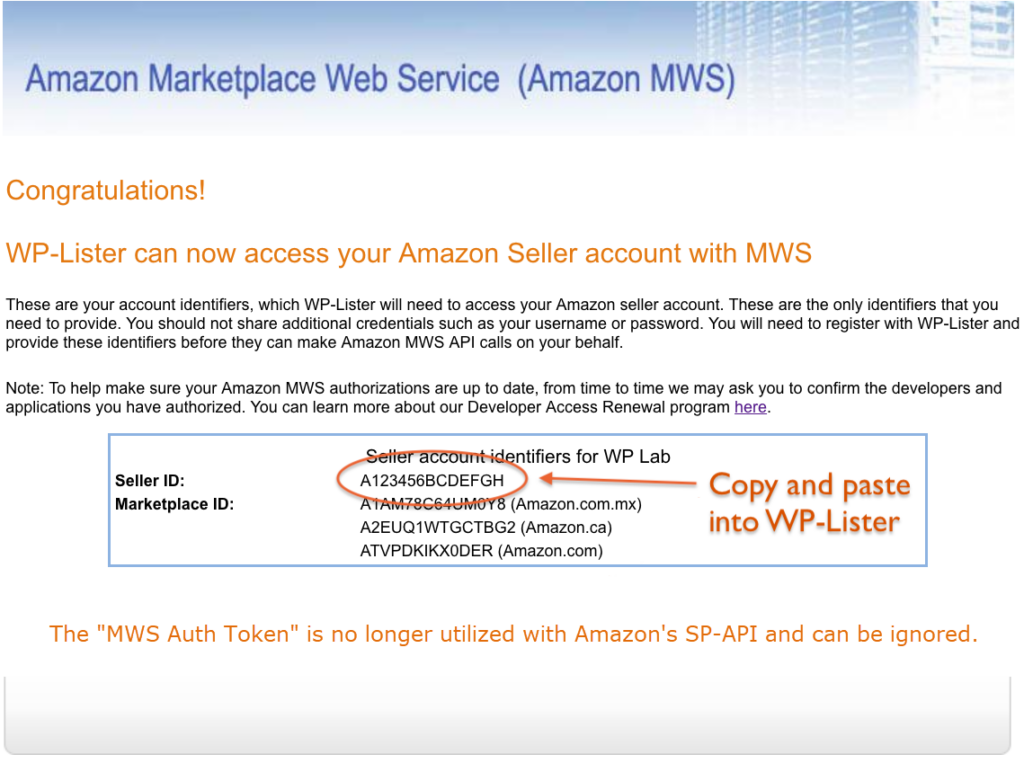 Note: The Seller ID numbers above are made up.
Step 2: Check the plugin settings
Visit Amazon » Settings » General Settings and set up the general plugin settings based on your needs as shown in the image below:
Hint: To learn more about what each option does, please hover over the little question mark and a tooltip with a more detailed explanation will appear.
Step 3: Select your product categories
Visit Amazon » Settings » Categories and select the categories you want to use to list new products. Keep in mind that some categories may need approval from Amazon, so please make sure you are eligible to selling in the categories you choose.
You can check which categories require special approval from Amazon using the links below: