Import all your products and store categories from eBay to WooCommerce.
This plugin will get you started with WP-Lister if you have already listed all your products on eBay. You will have your WordPress powered e-commerce site up and running in no time – without adding all your products and categories again!
It will not only import all your active listings as products in WooCommerce – and recreate your eBay store categories in WooCommerce – it will set up your listings and categories in WP-Lister as well.
You can even migrate all your products from Auctiva or other listing tools as long as they are on eBay. Please keep in mind that you can't use WP-Lister and other 3rd party listing tools at the same time.
Features
Import all active listings from eBay
Import all your custom store categories
Supports product variations
Supports hierarchical categories
Item specifics on eBay will become product attributes in WooCommerce
Option to filter item description with custom definition of allowed HTML tags
Option to import a single item by entering its item ID (for testing)
Create listings in WP-Lister automatically – if a listing profile is selected
Create category mappings in WP-Lister Pro automatically
Requirements
WP-Lister 1.2.4+ (Pro or free) needs to be installed and set up
You need to have an eBay store account to import store categories
Your server shouldn't break under heavy load
(Please read the FAQ below – this plugin won't work on a shared dreamhost webspace!)
Screenshots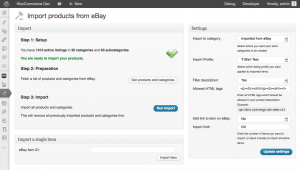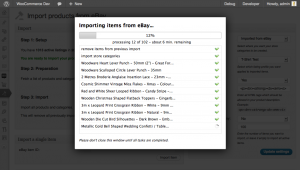 Frequently Asked Questions
Can I run the import every day or week to add new items from eBay?
I'm afraid this is not what this plugin is designed for. It is designed for migrating all items from eBay to WooCommerce once – and let WP-Lister take care of managing and syncing items from that point on.
You can run the import as often as you like – until you are satisfied with the result. In "clean import" mode all previously imported products will be removed on each new run – but while in "only new" mode all previously imported listings will be skipped and only non existing listings are imported. So you can work on the new site while new listings are added on eBay – but once you go live, you need to use WP-Lister to create new listings and keep the inventory in sync (Pro only), which requires all product changes and inventory updates to be applied in WooCommerce.
If you are currently using an inventory update system which pushes updates to eBay, you need to find another system to push these updates to WooCommerce instead.
I currently use Auctiva. Can this plugin import my products to WooCommerce?
Yes, this plugin will migrate all your eBay listings to WooCommerce and WP-Lister, whether they were created using Auctiva, TurboLister or any other 3rd party listing tool. But please be aware of the fact that once you started using WP-Lister, you'll have to stop using other listing tools to add new listings or modify existing ones. (see previous question)
I don't have an eBay store. Will the plugin import categories then?
The plugin can only import store categories – not the official eBay categories.
The eBay category tree consists of about 20.000 categories, sometimes more than five levels of subcategories deep. You probably would not want your WooCommerce categories populated with with such a category hierarchy, but if you are a professional seller on eBay, you are supposed to have an eBay store with your custom store categories anyway.
Can I use the importer without WP-Lister?
You need to install at least the free version of WP-Lister first and connect it to your eBay account. If you don't want to use WP-Lister to manage your products you can remove both plugins when the import is done and you will have a copy of your eBay store in WooCommerce.
Does the plugin import shipping methods and payment options?
The plugin can only import products and categories. Shipping options and payment methods are not properties of a single product – neither in WooCommerce nor in WP-Lister – so the importer can't just import your selected shipping or payment methods and "store" them along with the imported product.
Instead, you'll need to define shipping and payment options in WooCommerce (globally) and in WP-Lister (on a profile level) as well. The importer can not create global WooCommerce settings or listing profiles for WP-Lister for you.
The importer does to help though – by importing your items weight and dimensions. So if you use calculated shipping services like UPS or USPS on eBay, all you need to to is to install the same shipping services in WooCommerce – and select them in your listing profile in WP-Lister. This way, all shipping fees will be set up automatically – but I'm afraid calculated shipping is only available on eBay US, CA and AU.
Update 2013-07-31: The latest version 1.3.14 does store various additional details with each created product – including ebay categories and shipping services. While you still need to create a listing profile and assign it in the import settings, this listing profile can be quite generic – meaning you won't need to worry about categories or shipping fees as these will be taken from the product, not from the profile. WP-Lister 1.2.4 or better required!
How will the plugin handle item descriptions when they use a predesigned listing template?
The importer contains a set of tools to process and clean your items description.
To extract the actual product description text from the HTML template, the importer allows you to define multiple "cut in" and "cut out" points that you can use to le it know where your description begins and where it ends.
Additionally, you can (and should) let the importer strip all html tags except for a list of allowed tags. You'll probably want to keep simple tags for line breaks, paragraphs and bold or italics like <br><p><b><i> – but you don't want to keep all those <font>, <span> or <div> tags containing hardcoded formatting styles which will only mess up your WooCommerce theme.
If that's not enough you can define multiple search and replace rules to be applied to the description as well.
What about server requirements?
Depending on your product data, this plugin might require more RAM or execution time that is configured by default on your server or webspace. This mainly depends on the number and quality of your product images – but might be affected to a smaller amount by the number of products as well.
This means that you might have to increase the available RAM from the default 40M to 96M or more – the default timeout of 30 seconds shouldn't cause any issues unless your server is really really slow.
Some hosters – like Dreamhost – have additional limitations on how much ressources like CPU a PHP script is allowed to use. In the case of Dreamhost, if that limit is reached, the script is terminated without further notice – which makes it impossible to use this plugin on their shared webspace.
If you want to read some more about these issues with Dreamhost there is an interesting thread on wordpress.org and of course the great codex page about webhosts on ithemes.com.